Below are just some of the many nearby attractions the Robison Ranch Horse Retreat…
Fossil Falls – Steep, volcanic cliffs and other formations carved by the Owens River before it dried up in the early 1900's.
Fossil Falls is located 45 minutes north of the city of Ridgecrest on the east side of US 395. Take the Cinder Road exit. There is a trail to follow from the parking lot. Though not difficult, sturdy shoes are helpful on the trail. NOTE: PLEASE SUPERVISE YOUNG CHILDREN. THE TRAIL LEADS TO THE TOP OF A SHEER CLIFF.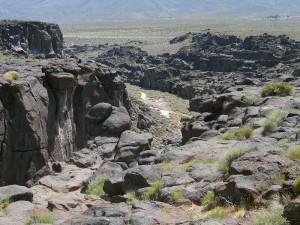 Kennedy Meadows – Pine woodlands and meadows on the Kern Plateau. Kennedy Meadows is part of the Sequoia National Forest. Camping, fishing, hiking, and motor cycle riding are common activities at Kennedy Meadows.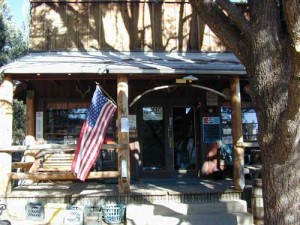 Kern River – Activities abound on the Kern River and Lake Isabella!
Maturango Museum in Ridgecrest offers Petroglyph Tours.
Mt. Whitney – At elevation 14,496 ft, Mt. Whitney is the tallest peak in the continental United States. Whitney Portals is also an excellent destination that can be driven to. The portals feature 1000 ft white granite walls, thick pine trees, a fishing pond, and a general store. Be sure to ask for a famous "Doug Burger" if you're there around meal time. Most trail hiking requires a permit, which can be obtained at the White Mountain Ranger Station in Lone Pine.
Whitney Portal Trailhead is located 70 miles north of Inyokern on highway 395. At Lone Pine, head west on Whitney Portals Rd for another 13 miles to the portals.
Red Rock Canyon – Unique geology and colorful desert cliffs abound at Red Rock. Located just 23 miles south of Inyokern, Red Rock is a convenient and easy drive from the ranch.
Trona Pinnacles – consists of more than 500 tufa (calcium carbonate) pinnacles rising from the bed of the Searles Dry Lake basin. These spires were formed underwater 10,000 to 100,000 years ago when Searles Lake formed a link in an interconnected chain of lakes stretching from Mono Lake to Death Valley.
The Trona Pinnacles are located approximately 20 miles east of Ridgecrest.